ixari

User Rating (average from all submissions): 4.2
First Name: Luke
Last Name: Frost
Location: Sunderland, UK
User Since: Feb 8, 2007 at 07:13:59 AM
Last Submission: Feb 13, 2007 at 07:49:27 PM
74 Completed Games Played By This User!
74 Submissions By This User!

Picture of User: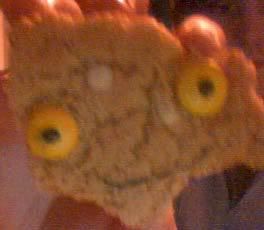 CEWKEY MAN

Statement:
ARN YARN YARN MYARM

user's highest-rated picture:


go to game

user's highest-rated sentence:
If train 1 is moving at 30 miles per hour, and train two is moving at 50 miles an hour, and they both set off on the third saturday in november, when will they collide and kill Ghost Shark?
go to game
13 Responses:
Uroboros
Feb 9, 2007 at 04:25:08 AM
I felt compelled to come back and praise you for your pic in the Emo vs Chav game. You make me happy in a special way!
---
Inara
Feb 11, 2007 at 11:08:32 PM
Seriously, what program are you using for your art? All of your stuff is just flat-out awesome.
---
Uroboros
Feb 12, 2007 at 03:16:04 PM
And again, but this time for God Harris. x3
---
Luminar
Feb 13, 2007 at 07:24:05 PM
GIVE ME MY TACOS BACK YOU GODLESS NORTHERNITE
---
ixari
Feb 13, 2007 at 08:26:43 PM
Haha as a response to Inara (I think im meant to respond here?) I use Photoshop CS2.. usually I use a fucking ancient wacom tablet (like 10 year old now) but when im at college I try to use the mouse (being left handed trying to fit into a right-handed society makes drawing with that hard) but I just tend to use the marque tool so it looks a bit vector-ish but its not.. i cant use Illustrator to save my life.
---
Gauphastus
Feb 13, 2007 at 10:08:46 PM
I have an Intuos3. :D
This thing changed everything about the way I draw.

Then there's the issue about getting used to drawing on it. I feel like I've got some secret ability when I draw on here, while my friends and family who came by to give it a shot failed miserably.

Hee hee.
---
Inara
Feb 13, 2007 at 10:32:37 PM
Wow - you did that in CS2? I was totally convinced you were using Painter or Sketchbook Pro. You've officially convinced me that the upgrade from Photoshop 8 is worth it.
---
Uroboros
Feb 14, 2007 at 12:54:44 AM
*waving pitchfork and torch around*
I knew sumtin fishy were up! Witchcraft!

Drawing tablets are too expensive for my blood, so i'll just quietly ogle the gingerbread dude in your picture. --;
---
ixari
Feb 14, 2007 at 10:27:03 AM
Yeah thats why I havent upgraded. They are really really extortionate but I must admit the one I have is really good for being 10 year old.

Yeah you should just get a pirate version of CS2 from limewire or something. You dont need to, though, because all of the features etc I use to do what I do are the same as Photoshop 8. Its not the version its the way you use it.

Try and find some painting tutorials on deviantart and use layers and things wisely. Practice with layer modes (mutliply, overlay, linear dodge) and experiment.

Im no expert at all, but thats my advice =D
---
ixari
Feb 14, 2007 at 10:27:57 AM
Oh and I might eat Cookie Man, im torn
---


login to add your comments